We celebrated out 50th anniversary on June 18th. Our daughters and their families gave us the best gift possible - a celebration without any of the work!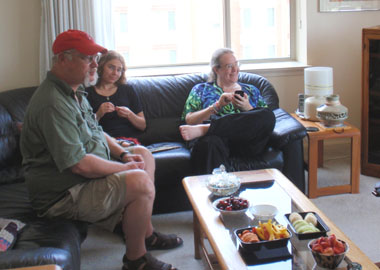 Brett - son-in-law; Jenelle - granddaughter; Kristin - daughter enjoying the lunch they brought. Afterwards Ruth, Brett, Jenelle and Dustan went off in our car and later we were delivered to the "party restaurant" in the green Prius.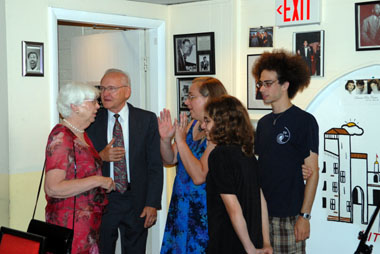 First guests arrive - Bob and Bev McGaughy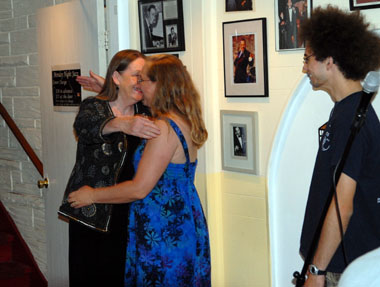 Elaine gets a welcome from daughter Ruth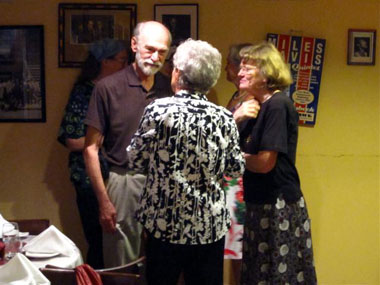 Marv, Ione (sister-in-law), Claire (sister)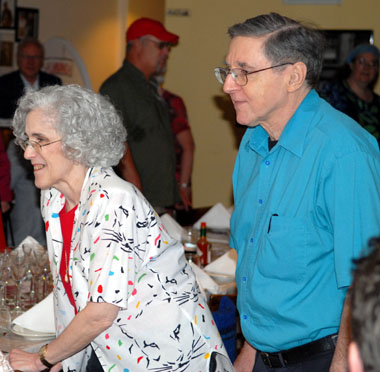 Anita and Ken Kulman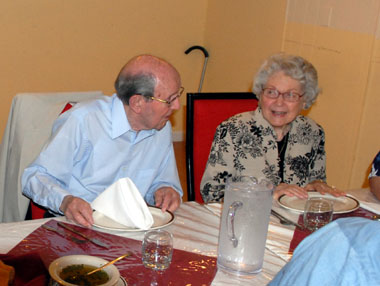 Larry and Mary Weiler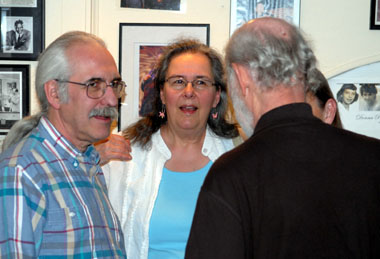 Jim and Jo Paoletti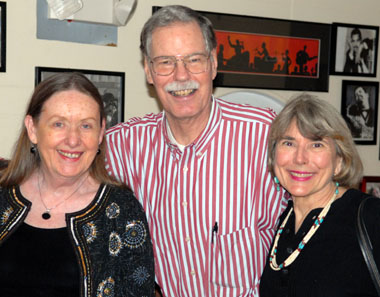 Bill and Gayle Withun
Meanwhile Ethan Uslan entertained us on the piano. The kids imported him from North Carolina - a great ragtime, jazz pianist with a great sense of humor.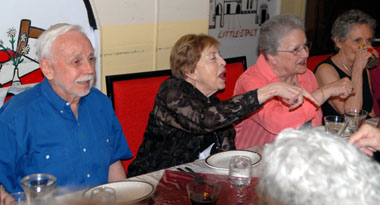 Owen and Carolyn Compton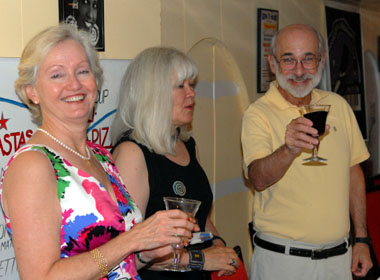 Karen O'Steen, Winifred Roberts, Jim Todhunter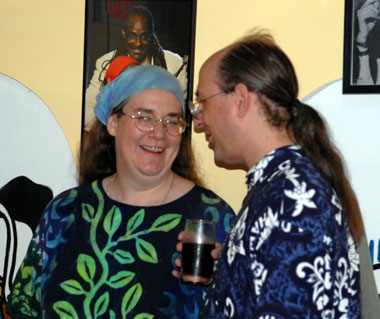 Kris and Andy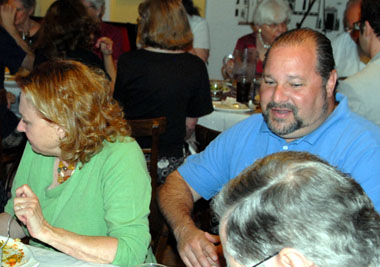 Sarah Andrews and Eric Nelson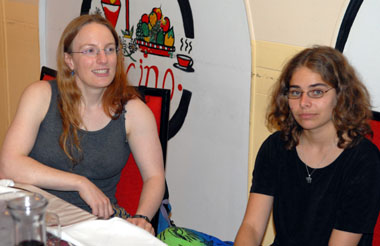 Alison and Jenelle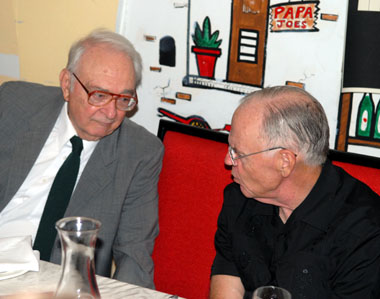 Conductor discussion - Frank Erk and Bob Shafer
Brian Sutton and Martha Newman
continue with Time to Eat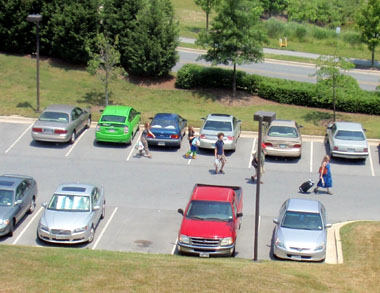 We had no idea what they had planned, but did know that Ruth, Brett, Jenelle, and Dustan were all coming from Austin, TX. They began by arriving with lunch in Alison's lime green Prius.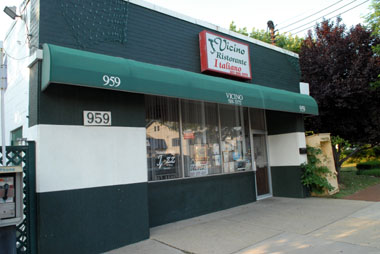 They found this amazing Italian Restaurant downtown Silver Spring that we didn't know existed - Vincino's Restaurante Italiano. They filled the downstairs room with over fifty of our good friends from a wide variety of places many of whom we had not seen in some time. Brett's mom flew in from Texas and Fred and Becky (nephew) drove down from New Jersey. They even hired a bus to bring friends from Riderwood!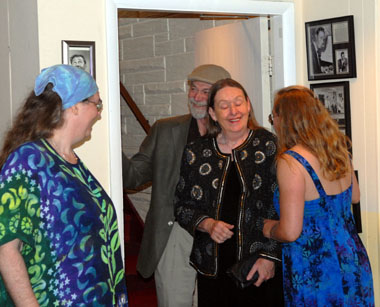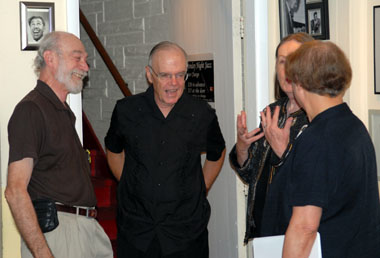 Bob and Sharon Shafer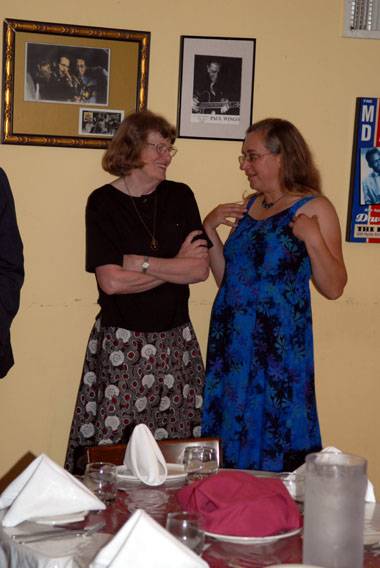 Claire and Ruth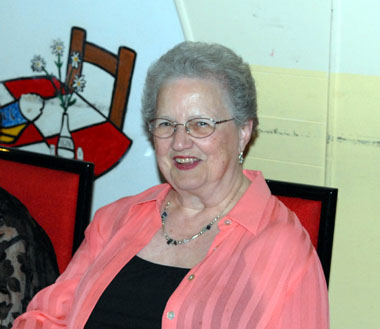 Liz d'Entremont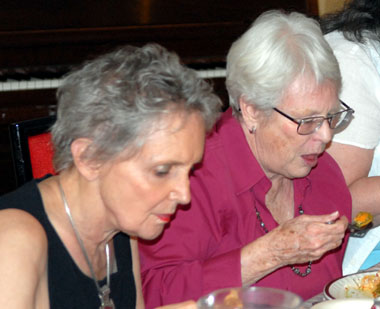 Brett's mom, Sally (on right) and her DC friend Cecilia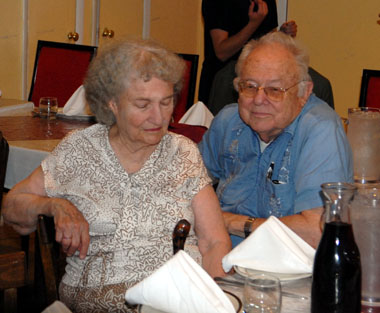 Ruth and Ches Looney (Andy's parents)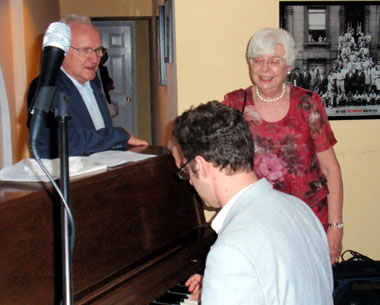 and Bev knew most of the words to the songs!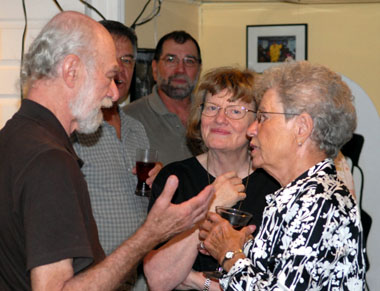 Marv, nephews Gary & Fred, Claire, Ione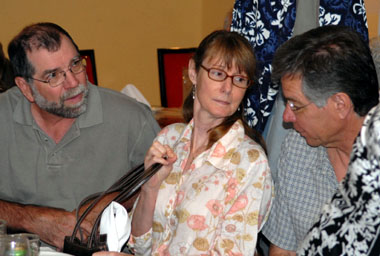 Fred, Becky and brother Gary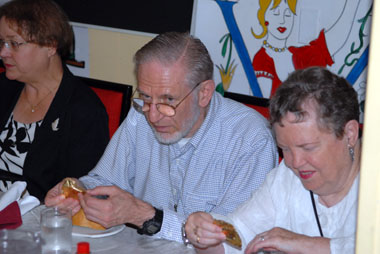 David Weisbrod and Trudy Downs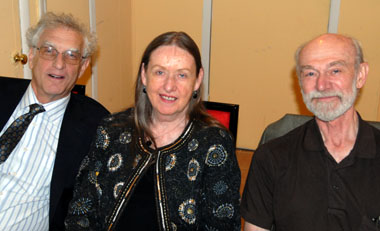 David Robinson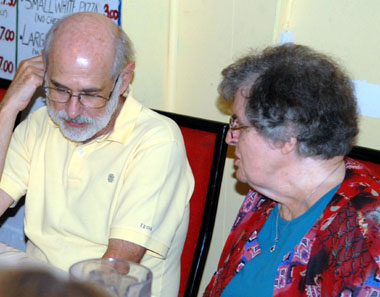 Jim Todhunter and Ruth Erk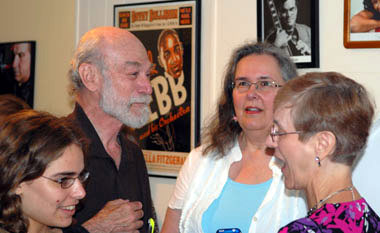 Jenelle, Marv, Jo and Lois Todhunter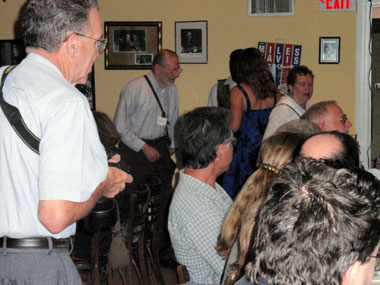 Jerry Miller brother-in-law (photographer for most pictures)