Leaving Wales, and first day in Salisbury
That evening, after many walks, we met Ken and Mary at the pub connected with our bed and breakfast. Ken was working the pub like any good local businessman before we arrived.
That is the Pembroke Castle at the end of this street.

He seemed to know everyone there, or at least everyone knew him at evening's end. He even found out that the daughter of a friend worked there and he introduced her to us.
Elaine's favorite place -- the internet cafe. A daily visit for Elaine.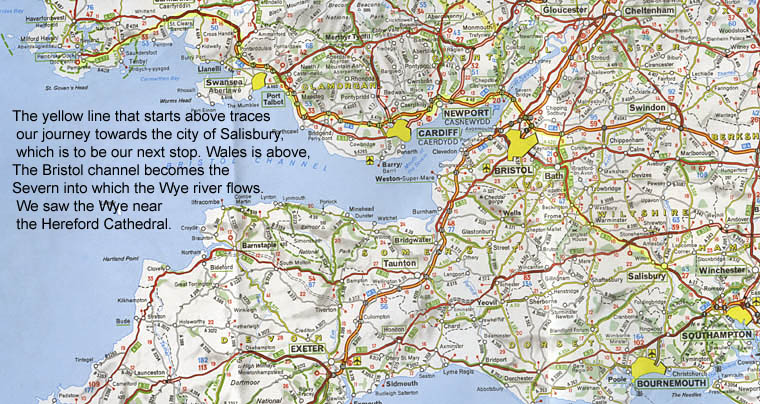 Several hundred miles later, we were in a different country -
Below was the first view we had of the cathedral.

England, and looking at the Salisbury Cathedral.
. Left is a map of the cathedral grounds. Above, the front entrance with it's statues lined up above the giant arch. We will see close ups of all this below.
On the grounds map above, note the square located just left of the sanctuary with the circle in the middle. It is the cloister surrounded by hallways seen in the below and right.
We would be climbing up here for some really great photos.
Aha! We found our dinner spot -- it was totally empty of customers, so we decided we could go back into the cathedral grounds to take more pictures and eat later.
After our dinner scouting, we were back for some more pics.
After dinner, we were back. We heard the organ concert going on inside that we should have attended -- then we couldn't have eaten dinner. Choices, choices!
Lighting, or lack thereof, makes so much difference. These were both long time exposures .. 1 sec., f2.8.

Corner view of the cathedral
This was our entrance into the cathedral grounds.

As we walked to the entrance, Elaine noticed this interesting clock. What actually caught her attention was the verse below. It was her confirmation verse. I have no idea what mine was.

Those statues above the arch are incredible for being so old.
The restaurant was packed, but the outside tables on the roof were delightful.
On our way back to our little B&B. Just up the street from that gate in the distance.

Next day, we were off to explore the interior of the cathedral. It would involve a photographic tour of the inside sanctuary while we waited for the tower tour to start. Please note the red door just above our car. We were parked in a reserved spot on the road which went with the B&B. From the top of the tower, I include one picture which gets the door, but not the car.

But first, the Sanctuary Interior and our tower tour.