Some late Serengeti Drives and On to Ngorongoro
| | |
| --- | --- |
| Gosh! This is a Goshawk. A first for this trip. | |
| | |
| --- | --- |
| This is a Black Shouldered Kite. | |
| | |
| --- | --- |
| This lion was chasing something -- we didn't know what. But the collar was interesting. Katau said she is part of a lion tracking research project in the park. | Well, I think this is a better baboon-with-baby-on-back. |
| | |
| --- | --- |
| A nice pair of Magpie Shrikes | And isn't this is the best ostrich yet? |
| | |
| --- | --- |
| This is a close-up of a whistling thorn tree. | This giraffe would eat the leaves if it weren't for the ant- filled black balls. But how could the giraffe avoid eating the thorns? We'll explain later at Giraffe park. |
| | |
| --- | --- |
| We visited another watering hole that had crocodiles. | This is the only place we saw these dinosaur-like critters. |
| Hippos were here and this one gave us a nice yawn. | We seem to have neglected taking pictures of gazelles. This one reflected itself so nicely in the waterhole. |
| | |
| --- | --- |
| Come to think of it, the only other gazelle we posted was being eaten by cheetahs. Here are three that are very alive. | This blurry image at the top is a Colobus Monkey leaping from branch to branch - very rare to see see this! |
| | |
| --- | --- |
| A jackal with a beautiful blue back. | The sun sets on our last game drive in the Serengeti. |
The next morning, we packed all our belongings into the vans and we were off to the Ngorongoro Conservation Area.
| | |
| --- | --- |
| On the way, we saw a very complacent vervet monkey. | And a mean looking Cape Buffalo. Please don't charge, sir. |
| | |
| --- | --- |
| A real lovely Sacred Ibis complete with reflection. | And a Secretary Bird whose crest fluttered nicely in the breeze. That crest looks like pens -- hence the name. |
| | |
| --- | --- |
| We almost saw a kill - a leopard after a zebra. But he got away while a filming truck was close behind. | This lion looks close enough to bite my head off. |
Here are two different female lions -- clearly content and not at all hungry.
| | |
| --- | --- |
| And, finally, we leave the Serengeti and enter | Ngorongoro Conservation Area, a park in which the wildlife is also protected from hunting, but resident natives are allowed to settle. |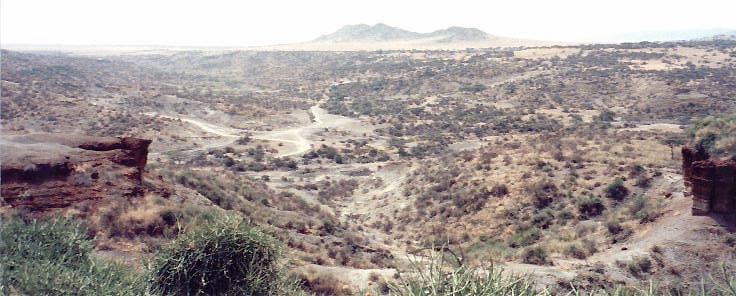 Our first stop of the afternoon was the Olduvai Gorge where much of the early paleontological research was carried out.
| | |
| --- | --- |
| | We visited the Olduvai Museum where the research of Mary and Louis Leakey was described. The Leakeys developed the theory that this gorge was the home to Homo Habilis, a race of early humans that survived other species to become the ancestors of all present-day humanity. There was a cast of footprints that the Leakeys found which verified the existence of this species. |
| | |
| --- | --- |
| We had a nice, short lecture in a pavilion that looked over the valley. With binoculars, we could see some students way in the distance doing some current research deep in the gorge. | |
And here we are, wearing Brittany and Jim O'Steen's jackets, at the Ngorongoro Lodge. It was really cold up here, over 7000 feet elevation above sea level.

Next, the Ngorongoro Crater.

Comments are welcome. Table of Contents