Our Entry into Tanzania
| | |
| --- | --- |
| At the border, we all had to fill out border-crossing forms. | Everybody seems in a good mood. |
| | |
| --- | --- |
| Especially Phyllis. | William packed our bags, we're ready to go. |
| | |
| --- | --- |
| At this point, there was a decided change in the weather. It was misting, raining and cool. Here, we were in the foothills of Arusha Park to climb to a waterfall. | Note the ranger leading the party. He was toting a very large gun in the event the buffalo in the park chose to charge. The ranger told us he has killed four buffalo in past walks. |
| | |
| --- | --- |
| That's Iris saying, "No way I'm crossing that!" | But with expert help, she made it. This is all on the video. |
| | |
| --- | --- |
| | I think the walk was worth it. By the time we got there, it was raining quite hard -- as Sandy's umbrella suggests. I think this was the wettest weather we had on the whole trip. |
| | |
| --- | --- |
| The dangerous Cape Buffalo were kept at bay by the two rangers . . . | . . . and we all made it back across the raging river. |
| | |
| --- | --- |
| We got to know our driver, Katau, a little better and | he spotted a nicely camouflaged giraffe on the way back. |
| | |
| --- | --- |
| That evening, we stayed at a decidedly unmemorable hotel in Arusha -- the Mt.Meru Novotel. They had email privileges and a number of us emailed our friends in America. Dinner was served, we went to bed early and were ready to leave the next day for our next game park, Tarangire National Park. But before getting very far out of Arusha, we stopped at a very interesting cultural center just south of town. The entrance below and right had musicians playing whenever anybody with money walked in. They had some very interesting wood carvings and paintings. Elaine had essentially selected a painting she wanted but decided to wait until getting back after our game drives in about 8 days. Iris couldn't wait, bought the painting she selected right on the spot (see her finger below on the left) and took it with her. She was right. We never got back. | |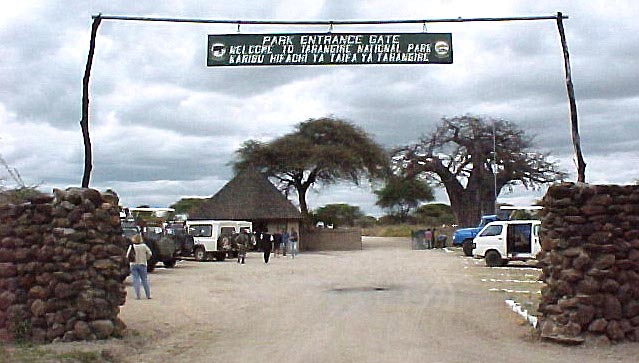 Finally, after many hours on a bumpy road, we arrived at Tarangire National Park. We only had a few miles to go to our tented camp, but we posed for a few pictures below, the hatches were opened on our Land rovers, and we were to have a short game drive before getting to our camp for a late lunch.
NEXT: Tarangire Tented Camp

Comments are welcome.