African Safari Wrap Up
| | |
| --- | --- |
| Our first stop on the way to Arusha was Giraffe Park. These weren't necessarily tame, but they have giraffe food available which you can give to them. | Their tongues are a flexible as an elephant's trunk and they us it to select single leaves among a branch of thorns. But ants on a Whistling Thorn tree are too small to avoid. |
| | |
| --- | --- |
| You can feed them on two different levels. | Phyllis was having a ball. I sure hope that picture that LG is taking turns out. |
| | |
| --- | --- |
| They also had dusty warthogs. | Why this one insists on walking on it's knees, I don't know. |
| | |
| --- | --- |
| Above is the front of the Karen Blixen House. She is the author of "Out of Africa." | These flowers are actually on vines on this tree. |
| | |
| --- | --- |
| The picture below is the coffee machine that roasted the coffee and was the cause of the fire that destroyed the farm. | Then, we were taken to a Maasai school house. It seemed similar to the one we visited in Kenya, but it was immediately clear that the country of Tanzania is poorer than Kenya. Their buildings were shabby and they had hardly any books and materials that the children could use. Evie, a school teacher in Pittsburgh, wants to show her students what wonderful facilities her own students have. |
| | |
| --- | --- |
| But thanks to a wonderfully talented teacher, | they they could sing beautifully. |
And eventually, after a one night stay in Arusha, we were back in Nairobi.
The pictures below require some explanation. We were supposed to have our group's final dinner at a restaurant called "Carnivore". They serve many of the animals we had been photographing for two weeks for dinner; like crocodile, ostrich, zebra, . . . etc. I decided to get a picture of the table, stepped back a little bit to get everyone in the picture, and what I thought was a bamboo wall covering below turned out to be a flimsy curtain that parted to reveal a mucky swamp. I fell in backwards in a total state of surprise and bewilderment.
| | |
| --- | --- |
| Above you see what dripped off of me. But below, the meal merrily went on without me. | I was a real mess -- not able to stay for dinner, but was taken to my hotel where I showered and put all my clothes in a bag for cleaning. The Carnivore paid for the cleaning and our two hotel meals that evening, including our drinks. |
| | |
| --- | --- |
| The next day, fully recovered and reimbursed, we were taken for a tour of Nairobi -- starting with the National Museum. | This is the site where the American Embassy was destroyed by a bomb less than a year ago. |
| | |
| --- | --- |
| And William ended his part of the tour with a wonderful detailed and informative talk about the history of Kenya. The whole thing is on the video. | And at this place, we all posed for a group picture. I won't identify everyone in this picture because in the five pictures below, we identify everyone. |
| | |
| --- | --- |
| And finally, on July 26, we all ate lunch at the restaurant, the last time we would all be together. L to R, Larry, Walter, Theda in the back and Lorena. | L to R, Elaine, Ruth Ann, Iris and L.G. |
| | |
| --- | --- |
| Marv, Evie, Julian, and Phyllis. | Theda, George, Lorena and Sandy. |
And Phyllis and Julian having a real good time.

And this ends a two week fabulous trip. I think it's safe to say that the fourteen of us feel that we all knew each forever even though it was only 14 days. In case any of you would like to download a group picture which you may want to print, I'll post the other picture I took below at its full, uncompressed size. It will probably print better.

Elaine and I would like to thank all of you for helping us to have a fabulous time. It would be great if we could all meet again. If you have ideas for another trip, let us know.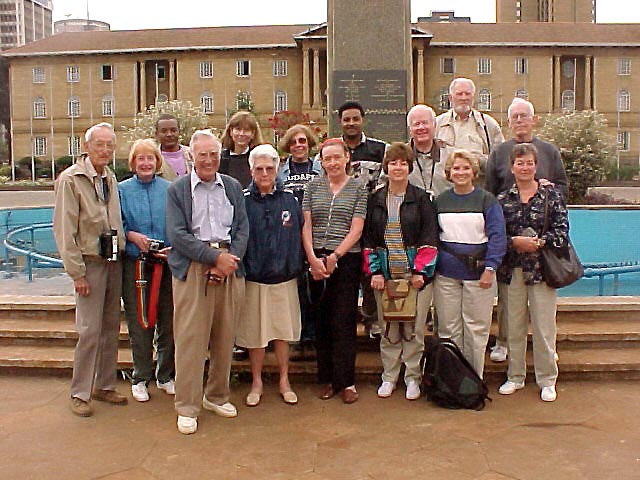 The OAT Africa Safari Group - July 1999

Comments are welcome. Table of Contents