Into Africa and our Amboseli National Park game drives.
| | |
| --- | --- |
| On July 10, 1999, Elaine's birthday, we set out on an adventure we will never forget. We began an African safari organized by OAT, (Overseas Adventure Travel) which is a company located in Cambridge, Mass. There were 12 other participants on the tour, and you can see their pictures by clicking HERE. We all got to a day hotel in London by different airline flights from different locations in the country and we met for the first time in the picture on the right to await our bus which would take us to Gatwick for the flight to Africa. | |
| | |
| --- | --- |
| A very groggy group arrived at Nairobi airport. | Our first briefing by Jean of OAT took place south of town. |
| | |
| --- | --- |
| Soon, we were transported into two busses, with 7 seated in each, and were on our way to our first game park, Amboseli National Park. This was a short rest stop on the way. | We were already seeing trees and flowers we had never seen before, like the red flowers covering the trees above. |
| | |
| --- | --- |
| Back in the bus, we noticed some strange bushes with black balls all over them. John, our driver stopped the bus and went outside to break off one of them. | These were Whistling Thorns that ants bore into, causing them to whistle in the wind. Giraffes like to eat the leaves, but the ants bite their tongue and they avoid them. |
| | |
| --- | --- |
| The ride to Amboseli was rougher than we ever imagined. We saw many animals, but couldn't take any pictures because of the rough ride. But after checking in, we had a late lunch and were taken out for a late afternoon game ride. We IMMEDIATELY spotted our very first giraffe in the wild and I popped my head up to take the picture to the right. Now, Elaine could come home. She said she wasn't coming home until she saw a giraffe-in-the-wild, and this certainly qualifies. | |

But we were in for a lot, lot more! Amboseli has it's own little migrating herd that goes one way in the evening, and turns around and goes back the other way in the morning. Above is a panorama picture (Elph, Evie) of Zebras in that herd.
| | |
| --- | --- |
| But my camcorder has a super 16x optical telephoto, and these downloaded pictures are what we all saw through our binoculars. | What a magnificent animal. I guess he noticed us! |
| | |
| --- | --- |
| Elephants were also a part of the herd. | All slowly moving in the same direction. |
| | |
| --- | --- |
| John, our driver was talking about vultures when describing this scene. | My camcorder picture doesn't look like vulture beak to us. Walt identified it as a Marabou Stork. Thanks. |
| | |
| --- | --- |
| This is a White Bearded gnu, known as a wildebeest. Also part of the herd. | Here, it seemed that a zebra was injured. The driver thought that it was a young zebra that was resting. The others would naturally wait until it decided to get up and move on before continuing the march. |
| | |
| --- | --- |
| We were all a little concerned that the hyena above was just waiting until the zebra died and would make a feast of it. The driver said no to that. | They are called Spotted Hyena -- you can really see spots. |
| | |
| --- | --- |
| This was a nice picture of a Black headed Grey heron. | And three cheers for our Black-faced Vervet monkey. |
| | |
| --- | --- |
| Late in the day, we drove past a huge lake of flamingos. | This is as close as I could get -- they looked fake at first. |
The next morning, we were up at 6 A.M. for a game drive before breakfast. The reason was to see the top of Mount Kilimanjaro without its otherwise constant cloud cover. The first panoramic glimpse of that African scene was stunning.

| | |
| --- | --- |
| Out of the front of the bus, we saw elephants backdropped by the 19,000 foot mountain. | The Snows of Kilimanjaro! |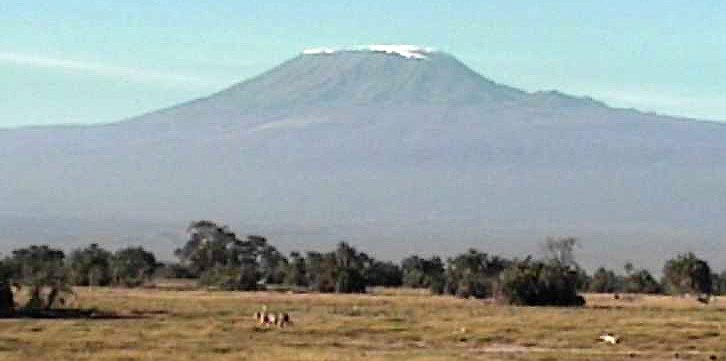 The lions were out this morning and were still hungry. There was a whole pride of them here.
| | |
| --- | --- |
| | They were stalking some buffalo, but came back hungry. |
| | |
| --- | --- |
| | |
| The Zebras and Elephants were out in great number. | We weren't this close. My Sony Mavica has a 10x zoom. |
This was a family of elephants with their babies. This one above was right next to his hovering mother.
Some big beasts had white egrets on their heads.

The one above is a tottler with one inch tusks.
Elaine took a darling picture of a one-week old baby.
We finally found a wart hog to photograph. They are rude sounding beasts that tend to stay away from beaten paths.
We weren't supposed to get out of the van, but Larry managed to do so very quickly before the driver knew. He sure looks guilty!

This shot shows how we were taking all those pictures. In our next park, the vans were very different. Here, we had shade for our delicate heads and room to see far and wide
Ruth Ann was sitting in the front seat and sometimes needed to get out to get a picture.
To round out our viewing experience, we spotted this wonderful jackal in the tall grasses, and got real close to this Sacred Ibis pictured on the right. Our next page is a tour of our fabulous lodge and an afternoon game drive which features lots of giraffes. Table of Contents:

Comments are welcome.